Room Test for Mosquito Repellents
Room test is developed to check the efficacy of repellent formulation in more real conditions while minimizing volunteer's exposure to mosquito-borne diseases. In the "Room test" the efficacy of a repellent formulation is evaluated with free-flying mosquitoes under more standardized conditions in a room space. Similarly, the Arm in Cage test is also used to check efficacy of mosquito repellents but this test is performed in a confined space.
The Room test for Repellents is an in-house development by mosquito specialists from MIS. This protocol determines mosquito-landing rates on human skin after the application of topical repellent material.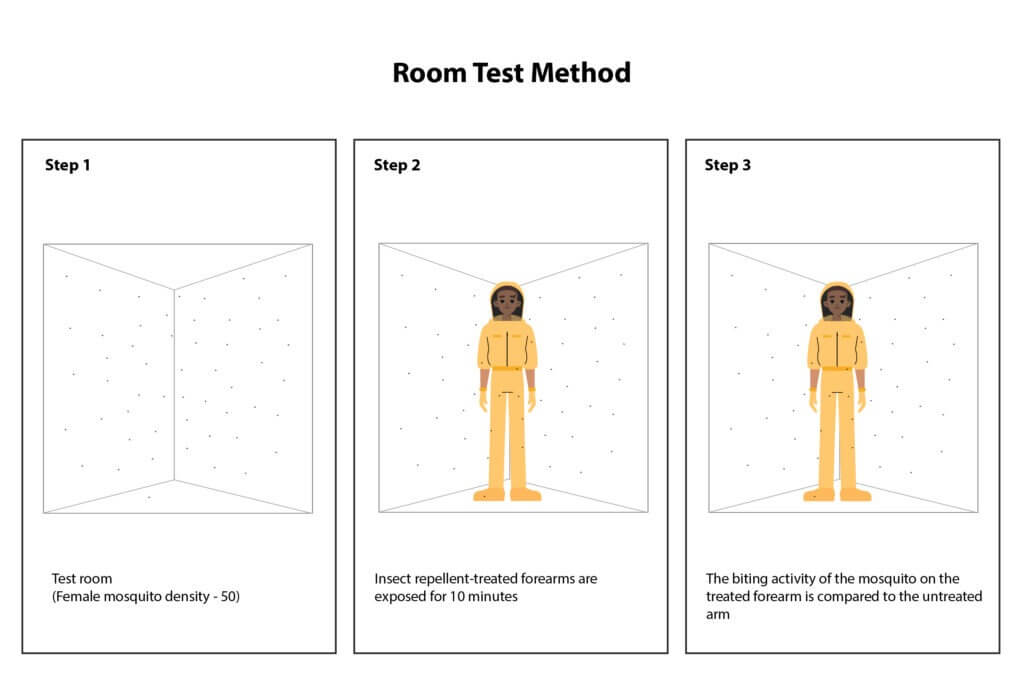 Room Test Procedure
Five participants and two mosquito species (Aedes and Culex) are needed in repellent room tests. The R&D team at Microbe Investigations takes extra care to ensure that the vectors don't transmit disease.
50 mosquitoes (female) are released into the room where this test is being conducted under certain test conditions. Before entering the room, participants apply insect repellent to their forearms while covering the rest of the body parts. During a 10-minute testing session, volunteers observe the mosquito contact time and bites on the skin. The same activity is performed by the second set of volunteers without any repellent. The biting activity of the mosquito on the treated arm is compared to the untreated arm.
At Microbe Investigations, our entomology experts use the standard methods for testing the efficacy of mosquito repellents. By using all advanced technologies, we ensure the quality and accuracy of our testing that meet customer's needs. 
We aim to provide great customer service. For any entomology tests related queries, you can also consult our expert.
Room test is used to evaluate the efficacy of the repellent formulations with free-flying mosquitoes in a room space.
Room test is used for the mosquito repellent products such as fabrics, spray, creams, and lotions.
Turnaround time for the Room test is 3-4 weeks.
Contact us for more information