Determine Virucidal activity of Disinfectants & Sanitizers
EN 14476:2013 + A2:2019 (Quantitative Suspension Test for the Evaluation of Virucidal activity of Sanitizers and Chemical Disinfectants)
EN 14476 is a quantitative suspension test used to evaluate whether the given disinfectant or antiseptics has the virucidal activity to control the spread of viral infection. 
Mostly medical health facilities are a potential risk factor for spreading viral infections. In such situations, cleaning and disinfection become crucial to prevent the outbreak of diseases and even the spread of nosocomial infections (hospital-acquired infections). Chemical disinfectants and antiseptics that contain antiviral agents are preferably used in the healthcare sector for hygiene and sanitation. 
Products that can be tested with EN 14476
Hygienic handrub and handwash

Instrument disinfection

Surface disinfection

Textile disinfection

Disinfection in patient care, nursing home, and in clinics of schools and of kindergartens
EN 14476 Test Conditions & Requirements
EN 14476 test method is used to determine the virucidal activity against both a limited and broad spectrum of test organisms. To perform this method, recommended contact time, temperature conditions, and other conditions are maintained as per the manufacturer's requirements or using standard guidelines.
The virucidal activity shall be tested using non – enveloped and enveloped viruses.
The contact times for surface disinfectant products applicable for health care facilities should be maximum of 5 minutes. The area of disinfection may include patients care area, medical staff, equipment, floors, and other surface areas. Whereas, products other than mentioned above may be tested with a contact time of maximum 60 minutes.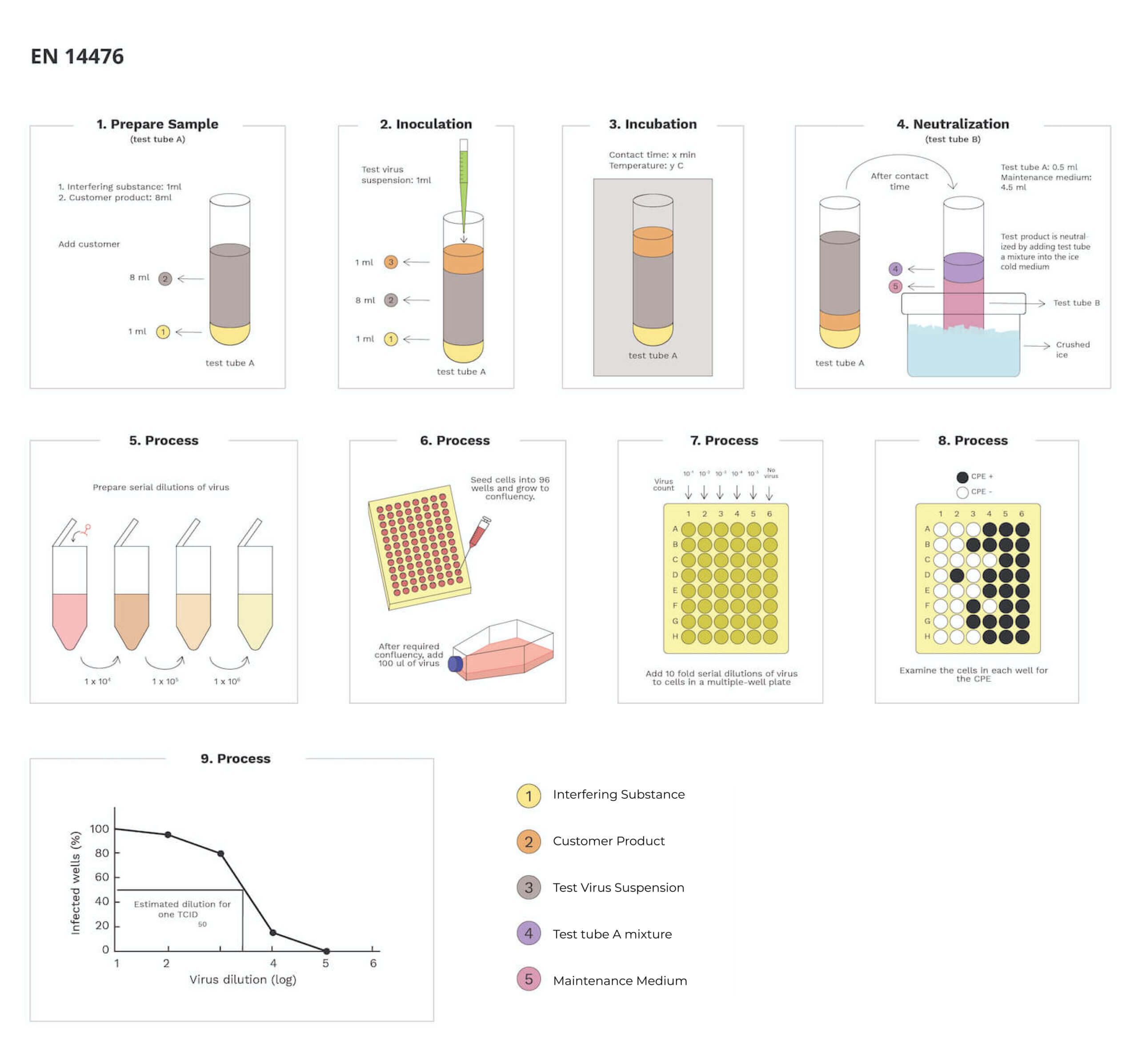 EN 14476 Test Procedure
To prepare a test suspension, a sample product is either diluted or directly added (ready-to-use product) to an interfering substance.
In the next step, virus is inoculated into test suspension.
The incubation period and temperature are maintained as per the manufacturer's requirement and assay is performed under clean and dirty conditions depending on the test product.
At the end of the contact time, an aliquot (small portion) of the sample is taken immediately and its virucidal action is suppressed by an ice cold maintenance medium.
Serial dilutions of the virus are transferred onto monolayer cell culture using 96 well plates and viral infectivity is measured by using TCID50 assay.
After incubation, cells are examined for CPE (cytopathic effect).
Reduction of virus infectivity is measured from the differences of virus titer with control (without test product) and after the treatment with test product.
We offer specialized microbiology testing services for treated textiles, plastics, coatings, and surface disinfectants. Ensuring accuracy and quality by utilizing the latest and advanced science & technologies is what we thrive for. We are continuously betrothed in meeting customers needs while maintaining cost-effectiveness as well.
MIS also performs EN 1276 test to evaluate the bactericidal activity of chemical disinfectants and antiseptics used in food, industrial, domestic, and institutional areas.
For more information on EN 14476 test or to purchase any microbiology testing services, consult our expert.
Contact us for more information