Determine Bactericidal activity of Chemical Disinfectants or Antiseptics
BS EN 1276 : 2019 – Quantitative Suspension Test for the Evaluation of Bactericidal activity of Chemical Disinfectants used in food, industrial, domestic and institutional areas
Disinfectants and antiseptics are primarily used to kill harmful microorganisms or inhibit their growth. However, not all the detergents hold the same efficacy against microorganisms, especially resistant bacterial strains. 
EN 1276 test is a quantitative suspension test to evaluate the efficacy of chemical disinfectant and antiseptic formulations against a broad range of bacteria. This test method is only applicable for disinfectant formulations used in food, industrial, domestic and institutional areas. Exceptions with this test method are that it is not applicable for areas where disinfectant is medically indicated, on living tissues, and viral strains.
EN 1276 Test Conditions
Test temperature

 – In between 4 °C to 60 °C

Contact time – 

In between 1 min to 60 min 

Interfering substance  –

It is added in a test for evaluating the efficacy of the test material against other dirty or clean conditions that coexist with microbes in natural environments. Bovine serum albumin (BSA) is used as an interfering substance.  (Clean Condition: 0.3g/l and Dirty condition: 3g/l of Bovine Serum Albumin).

Log reduction

– This term defines the relative number of living microbes that are eliminated by disinfection.

For a product to pass EN 1276, it must have the potential to achieve 5-log reduction against the test microorganisms. 5 log reduction means the product sample is able to kill 99.999 % of microbes.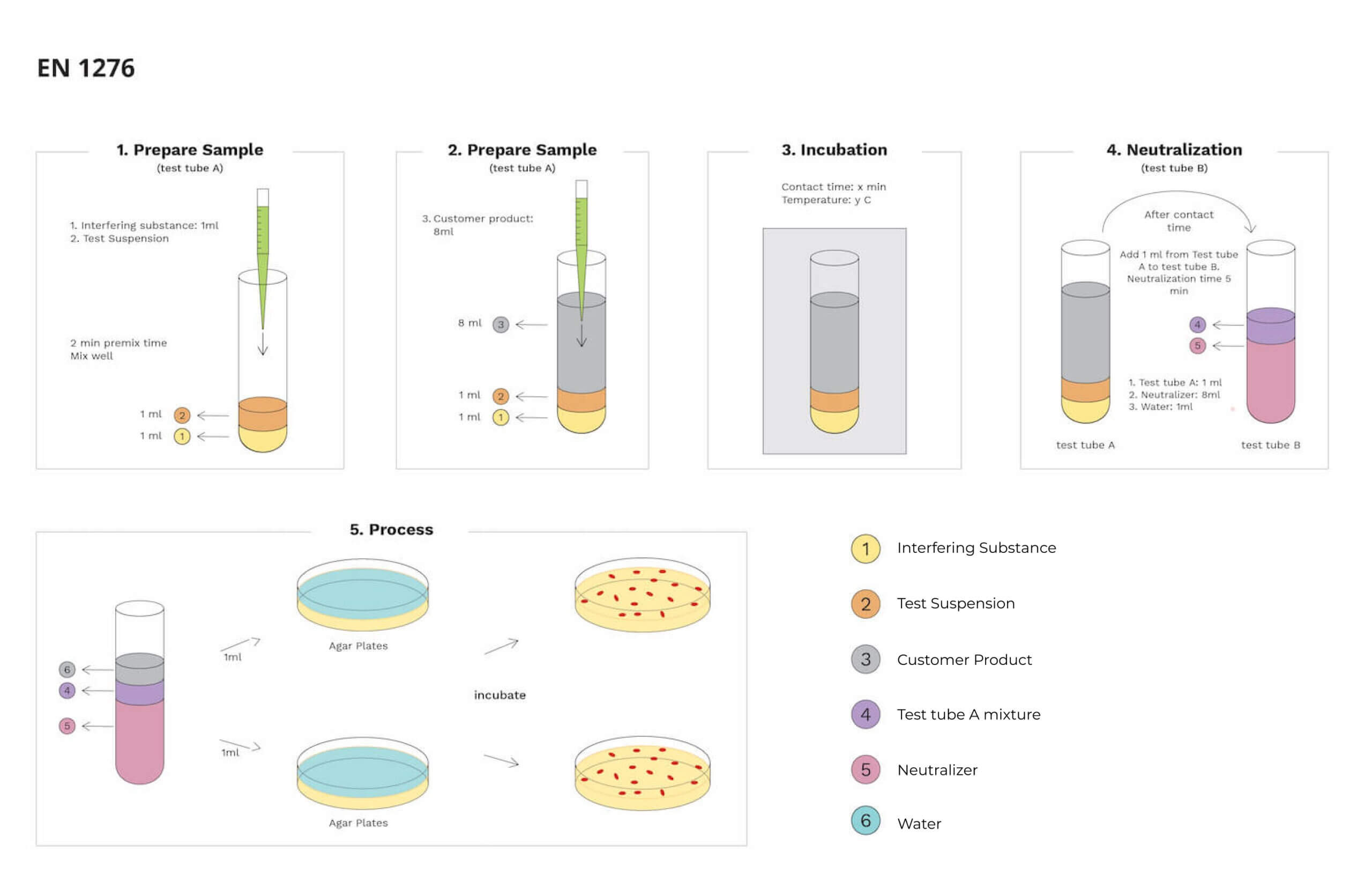 Procedure for EN 1276 Test Method
A sample of the product is added to a test suspension of bacteria in a solution of an interfering substance. 

This test suspension is kept for incubation under conditions (temperature and time) specified by the manufacturer.

At the end of contact time, an aliquot is taken and is immediately added to the neutralizing solution to suppress its bactericidal activity.

Following a 5-minute neutralization period, 1 ml of the test mixture is plated onto Tryptone Soya Agar to detect surviving test bacteria.

Plates are incubated for 20 – 24 hrs and the reduction in CFU (colony forming units)  is calculated.
At Microbe Investigations, we recognize the importance of accuracy and precision for our customers. With our constant efforts, we envision the provision of quality and reliable microbiology testing services at an affordable cost.
At MIS, we also perform EN 14476 test to determine the virucidal activity of chemical disinfectants and antiseptics. 
We offer testing services to textiles, plastics, coatings, and surface disinfectants industries on a global scale. For more information on EN 1276, you can consult our experts.
Contact us for more information