Determine Bactericidal and/or Fungicidal activity of Chemical Disinfectants
EN 13697:2015+A1:2019 – Quantitative non-porous surface test for the evaluation of bactericidal and/or fungicidal activity of chemical disinfectants used in food, industrial, domestic and institutional areas
EN 13697 is a quantitative non-porous surface test method that assesses the bactericidal or fungicidal activity of chemical disinfectants intended for use in food, industrial, domestic and institutional areas. However, this antimicrobial test method is not applicable for areas and situations where disinfection is medically indicated or excluding the products used on the living tissues.
On the other hand, EN 14476 is available to determine the antiviral activity of chemical disinfectants and antiseptics.
EN 13697 Test Conditions & Requirements
Test temperature – In between 4 °C and 40 °C
Contact time – In between 1 min and 60 mins
Interfering substance – It is required to check the efficacy of the test samples against other dirty or clean conditions that coexist with microbes in natural environments
Log reduction – For a product to pass bactericidal efficacy, it must achieve 5 log reduction value. And for fungicidal efficacy, a product must have to acquire 3 log reduction values.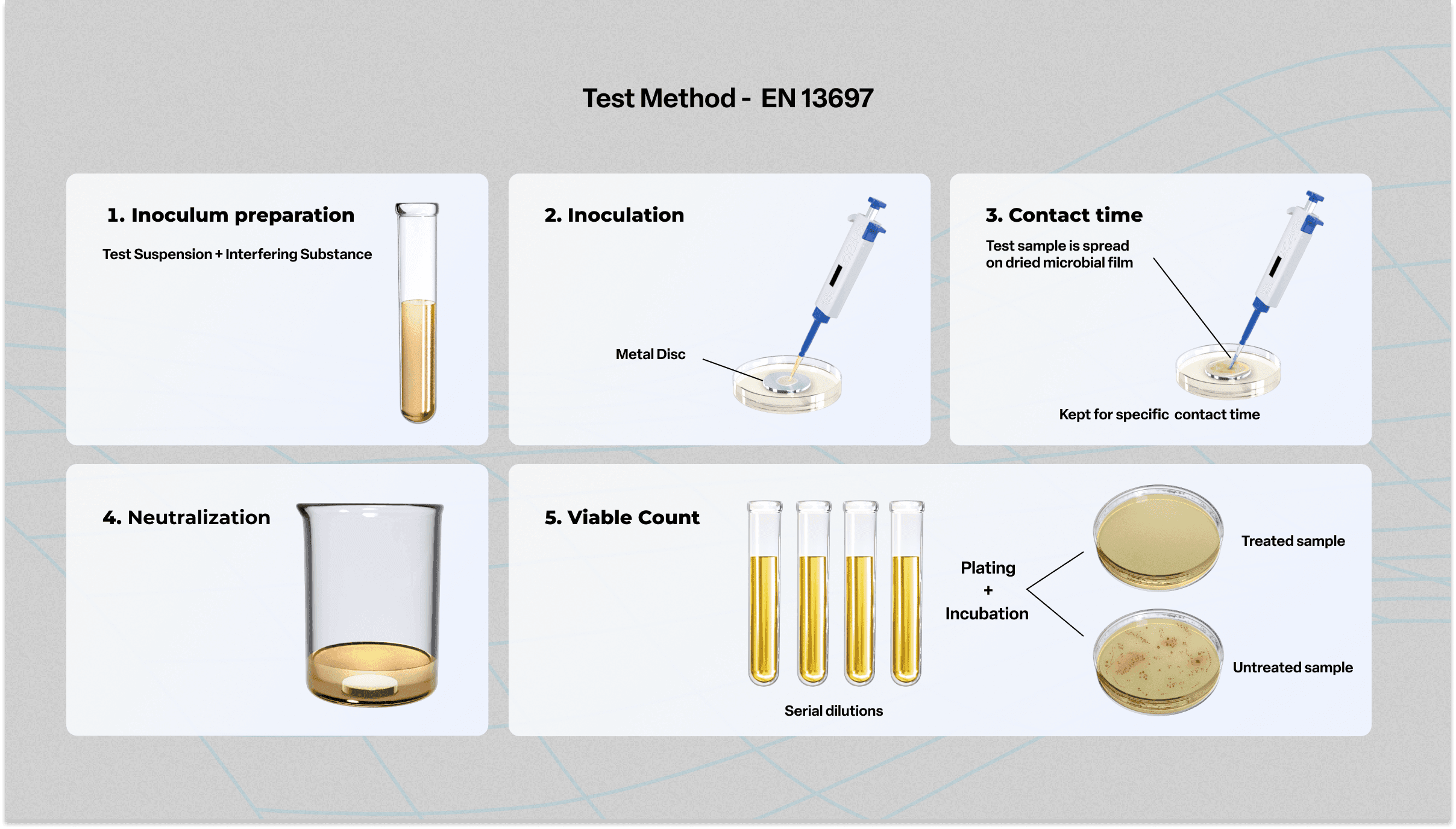 EN 13697 Test Method
Test suspension is added into an interfering substance, then inoculated onto the surface of stainless steel. This is allowed to dry out.

Sample product(test) and hard water (control) are applied to the surface of dried microbial film and maintained at a specific temperature for a specific contact time period.
At the end of contact time, surface is transferred to the neutralizing solution to extract the remaining bacteria/fungi.
Plating method is used to enumerate the surviving test microorganism after neutralization. A similar procedure is performed for surfaces treated with hard water.
The microbicidal effect of the test sample is compared to the control test.
Contact us for more information