Evaluation of Bactericidal and Yeasticidal Activity of Disinfectant Wipes
EN 16615 : 2015 –  Evaluation of Bactericidal and Yeasticidal Activity of Disinfectant Wipes used in the Medical Area
EN 16615 test, also known as 4 field test, is a quantitative test method for determining the bactericidal and yeasticidal activity of hospital-grade disinfectant wipes. EN 16615 method is applicable for wipes intended for disinfection of non-porous surfaces used in health care settings, in the clinics of kindergartens or schools, dental clinic setups, and in domestic areas.
In hospital environments, inanimate surfaces are one of the major sources of pathogenic microorganisms along with muti-drug-resistant strains. Thereby, disinfection practices play an essential role in preventing pathogen surface colonization and cross-contamination in healthcare settings. However, researchers have concluded that despite the use of disinfectants, there is a possibility of cross-infection among patients. Because not all disinfectant products hold strong antimicrobial potential against potent pathogens.
Prior to EN 16615, standard methods used to check the efficacy of disinfectant products were not able to clarify the mechanical removal of test organisms in real conditions. This recently developed EN 16615 standard thoroughly assesses the efficacy of disinfectant wipes including bactericidal and yeasticidal activity, and mechanical removal of microbial contamination.
EN 16615 Test Method (4 – Field Test)
Preparation of working culture of test organisms- In order to make a working culture for EN 16615 test method, subcultures are prepared from the original culture. For bactericidal activity, 2nd and 3rd subculture can be used for the experiment. Whereas, in the case of yeast, 2nd subculture (48 hrs old) is used for the test procedure.
To prepare the first subculture,

inoculum is taken from the original culture of test organisms and streaked onto

Tryptic Soy Agar

(TSA). It is further kept for incubation for 18 h to 24 h.

The first subculture is used to prepare the 2nd subculture and incubated for 18 h to 24 h.

The 2nd subculture is used to prepare the 3rd subculture and incubated for 18 h to 24 h.
EN 16615 Test Conditions
Test temperature

  – In between 4 °C and 30 °C

Contact time

–  As suggested by the manufacturer (should not exceed 60 minutes)

Interfering substance

  – Clean Conditions: 0.3g/l Bovine Albumin solution and Dirty condition: a mixture of 3 ml/l sheep erythrocytes and 3g/l of Bovine Albumin solution)

Log reduction

–

 

To pass EN 16615 test, test samples must achieve 5 log reduction (killing 99.999 % of microbes) for

bactericidal activity

and 

4 log reduction (

99.99% of yeasts) for

yeasticidal activity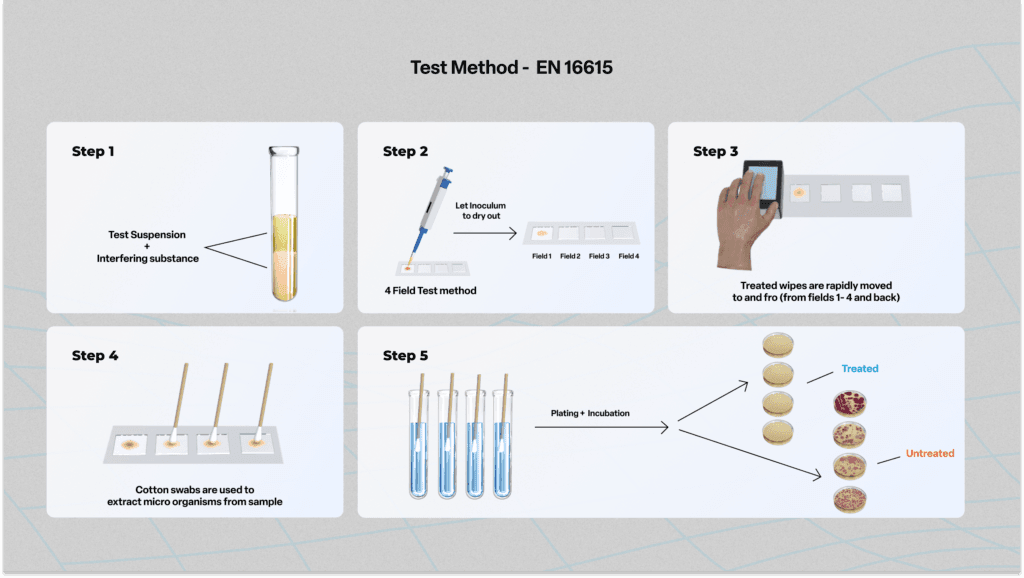 EN 16615 Test Procedure
4-field test fields (with

squares of 5 × 5 cm) are marked on PVC (Polyvinyl chloride) with PUR (Polyurethane) surface coating material.

The first field is inoculated with test suspension and is allowed to dry.

After the drying of the inoculum on test surfaces, test wipes are rapidly moved to and fro (from fields 1-4 and back). A specific weight (approximately 2.3–2.5 kg) is attached to the test wipes. This weight ensures the same pressure on the test surface which is usually created while wiping the surfaces with hands.

At the end of the contact time, test organisms are extracted from the test surface using moisturized cotton swabs.

Cotton swabs are put in the neutralization solution and further plated and incubated to analyze the bactericidal and yeasticidal activity of test samples.
At MIS, we help our customers in identifying the antimicrobial effectiveness of their products. While prioritizing customers' convenience, we are constantly focused on accuracy and on-time delivery of services. 
With a specialized team of experts, Microbe Investigations (MIS) offers a full range of microbiology testing services for disinfectants, textiles, coating, and plastics. Our labs are equipped with world-class equipment and facilities which help to mitigate the chances of errors in all the steps of the antimicrobial evaluation process.
We use BS EN 16615 and EN 1276 standard protocols for the antibacterial analysis of surface disinfectants. 
To get a quote for EN 16615 or any related queries contact us here.  
Contact us for more information