Minimum Inhibitory Concentration Assay
Determines the Lowest Concentration of an Antimicrobial Agent
Minimum Inhibitory Concentration (MIC) Test
In microbiology, Minimum Inhibitory Concentration (MIC) Test determines the lowest concentration of an antimicrobial agent that hinders the visible growth of microorganisms in a culture medium.
This test is used to evaluate the efficacy of novel antimicrobial drugs and other antimicrobial-treated compounds against bacteria.
Importance of Minimum Inhibitory Concentration Test


With an increase in bacterial outbreaks and the emergence of antimicrobial-resistant microbial strains, new therapeutic approaches are required for infection control. As per clinical studies, infections and diseases caused by antibiotic-resistant germs are difficult, and even sometimes become impossible to treat.

Minimum Inhibitory Concentration (MIC) assay plays an important role to determine in vitro susceptibility and resistance of pathogenic microorganisms against antimicrobial agents. This test is applicable to new antimicrobial drugs or any other treated material such as biosurfactants used in the medical fields.

The major advantage of using MIC test is it can be performed on the small scale with a minimum quantity of antimicrobial agents for the test.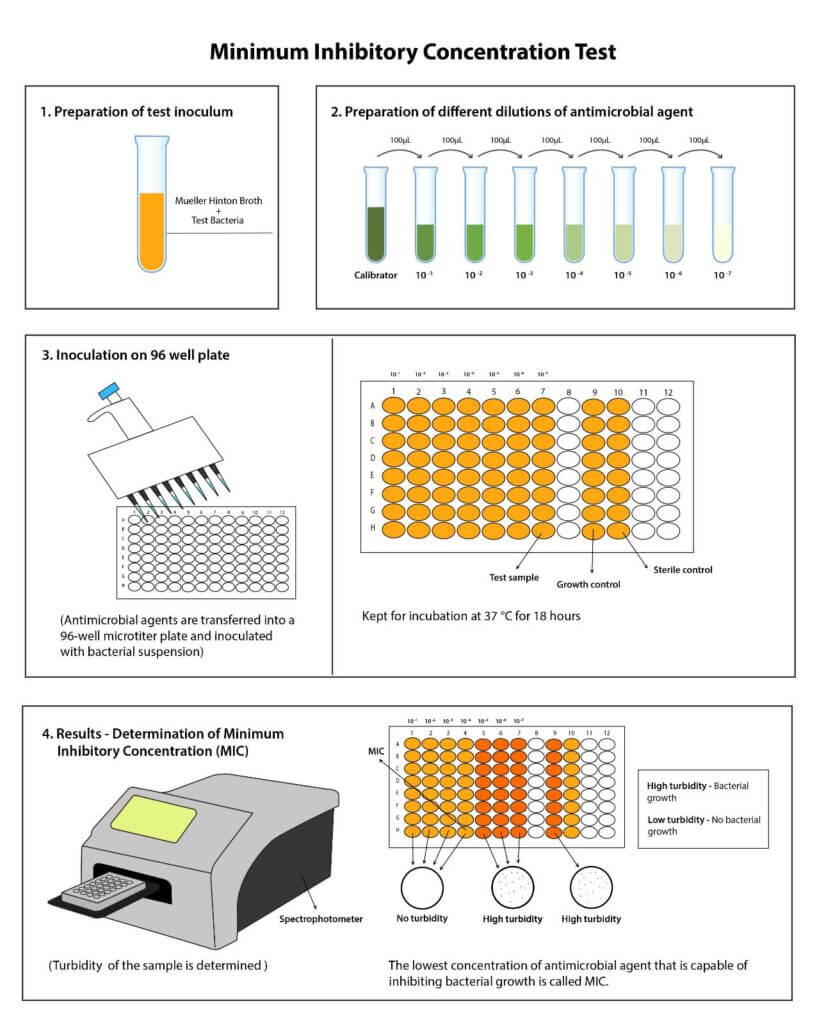 How Is a Minimum Inhibitory Concentration (MIC) Test Performed?


Minimum Inhibitory Concentration (MIC) test for bacteria can be performed either in agar medium or broth medium. Here at MIS,  we are using the broth dilution method to determine the Minimum Inhibitory Concentration.
Preparation of Test Inoculum 
Test organisms at MIS are cultivated on Mueller–Hinton broth. For routine antimicrobial sustainability tests,  Mueller–Hinton broth is considered the best medium because it has good reproducibility and allows the fast growth of most pathogenic bacteria.
There are two methods for MIC determination in broth dilutions
Macrodilution

–  1 ml of broth medium is used in standard test tubes

Microdilution

– 50 – 100 microlitre broth medium is used in a microtiter plate or tray
Preparation of Antimicrobial Agent Stock Solution
Different concentrations of antimicrobial agents are prepared and their antimicrobial efficacy is checked against the same pathogenic microorganisms.
96-well Microtiter Plate Format
Minimum Inhibitory Concentration for broth dilutions is determined by using 96 – well microtiter plate format. Different concentrations of antimicrobial agents are transferred into a 96-well microtiter plate format and inoculated with test bacteria.
Two Controls are used in this experiment –
Growth control

– It has bacterial suspension without any antimicrobial agents. This is used to see the actual growth of bacteria without antimicrobial agents.

Sterile control

–  It has only growth medium without any test bacteria and antibacterial agent.  This is expected not to show any bacterial growth after incubation.
Results 
The Microtitre plate is kept for incubation at 37 °C for 18 hours. After incubation, the turbidity of the sample is determined by using a spectrophotometer. The test samples without or with low antimicrobial activity will show the turbidity. Whereas, test sample with strong antimicrobial activity will show no turbidity, indicating that growth of test microorganisms is hindered. Thereby, the lowest concentration of antimicrobial agent that is capable of inhibiting bacterial growth is called Minimum Inhibitory Concentration.
At Microbe Investigations, we provide a wide array of antimicrobial testing services to test the efficacy of compounds and other daily utility products formulated to provide antimicrobial protection. We are a team of research professionals and microbiologists who have in-depth expertise to design and conduct test procedures and interpret microbiological data and reports.
With our microbiology testing services, our objective is to help our clients to achieve continuous improvement and advancement in building solutions for wellbeing.
For any queries related to MIC tests or other antimicrobial testing services, you can consult our experts.
Contact us for more information