Determination of Antimicrobial Activity of Textile Clothes
ISO 20743 : 2013 Test Protocol – Determination of Antimicrobial Activity of Textile Clothes
ISO 20743 is a standard test method that determines the antimicrobial efficacy of antibacterial finished textiles.
New stylish and affordable clothing brands are hitting the market every day. Aside from enhancing the style statements, the textile industry has put efforts to innovate clothing materials that ensure safety from bacterial infections as well. Such clothing materials are named "antibacterial clothes" as they have the ability to kill or reduce harmful bacteria in contact with fabric material.
What actually necessitates the need for antibacterial clothes is, many pathogenic bacteria can survive on clothes for a good period of time. Since clothing is used everywhere, hence it becomes an easy mode of spreading bacterial infections. 
ISO 20743 and JIS L 1902 are the most commonly used test methods to determine the antimicrobial activity of textile clothes. These two methods are very identical technically but are named by two different organizations. JIS stands for Japanese Industrial Standard (JIS) and ISO stands for International Organization for Standardization. At MIS, we perform both of these test methods to check the efficacy of antibacterial treated clothes.
Products to be Tested with ISO 20743
ISO 20743 test method is applicable to all textile products regardless of the type of antibacterial agents used for method of application. It includes –
cloth, 

wadding, 

thread,

bedclothes, 

home furnishings,

and miscellaneous goods.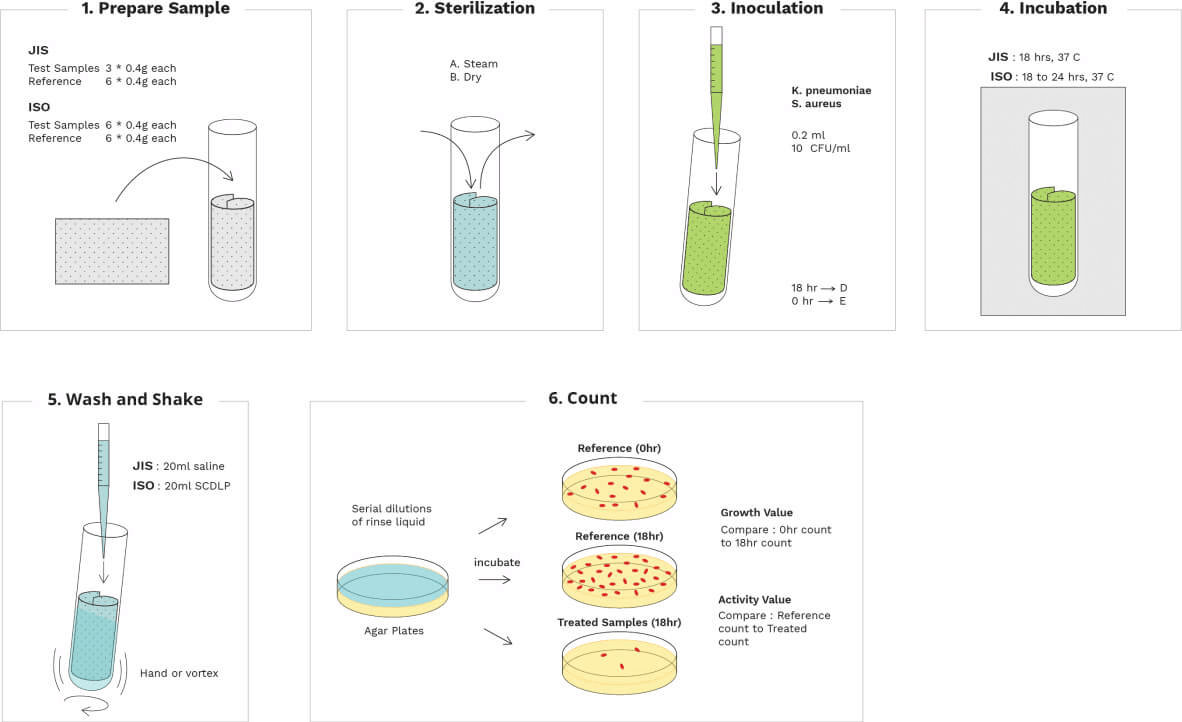 Different Testing Methods in ISO 20743
Three different inoculation methods are available to determine the antimicrobial activity of the treated textiles. At MIS, our experts use "absorption method" to determine the antimicrobial activity of treated samples.
Absorption method

– In this method, test bacterial suspension is inoculated directly onto the treated antibacterial sample. 

Transfer method

– Transfer method involves the inoculation of agar plate with test bacteria and then transferring it onto the treated antibacterial sample. This sample is further incubated for 18-24 hours under humid conditions.

Printing method

– In this evaluation method, test bacteria are placed on a filter and printed onto the treated antibacterial sample. Sample is incubated for 1-4 hrs under humid conditions.
We, at Microbe Investigations, are constantly engaged in providing high-performance and quality testing services to our valuable customers. Meanwhile, we are equally focused on offering a superior customer experience by ensuring cost-effectiveness and timely delivery of services.
For placing a test request and more information on ISO 20743 test or any other related microbial testing services, reach us here. 
Contact us for more information