Evaluate Virucidal activity of Chemical disinfectants & Antiseptics
BS EN 16777 – Quantitative Non-porous Surface test without Mechanical action for the Evaluation of Virucidal activity of Chemical Disinfectants used in Medical Area
EN 16777 (phase 2, step 2) is a quantitative suspension test for the determination of virucidal activity of products intended for use in medical areas for disinfecting non-porous surfaces including surfaces of medical devices without mechanical action.
EN 16777 test is applicable to the situations and/or areas where disinfection is medically indicated including –
hospitals,

medical care centres, 

nursing homes,

infirmaries of schools,

And dental care facilities.
EN 16777 Test Conditions and Requirements
Test temperature

 – Between 18 °C and  25 °C

Contact time – 

As per manufacturer's recommendations, but no longer than 5 or 60 minutes

Interfering substance  –

 Clean Conditions: 0.3g/l  bovine albumin solution and Dirty conditions: 3g/l of bovine albumin solution plus 3 ml of erythrocytes

Log reduction

– Tested product must achieve 4 log reduction value to pass EN 16777 standard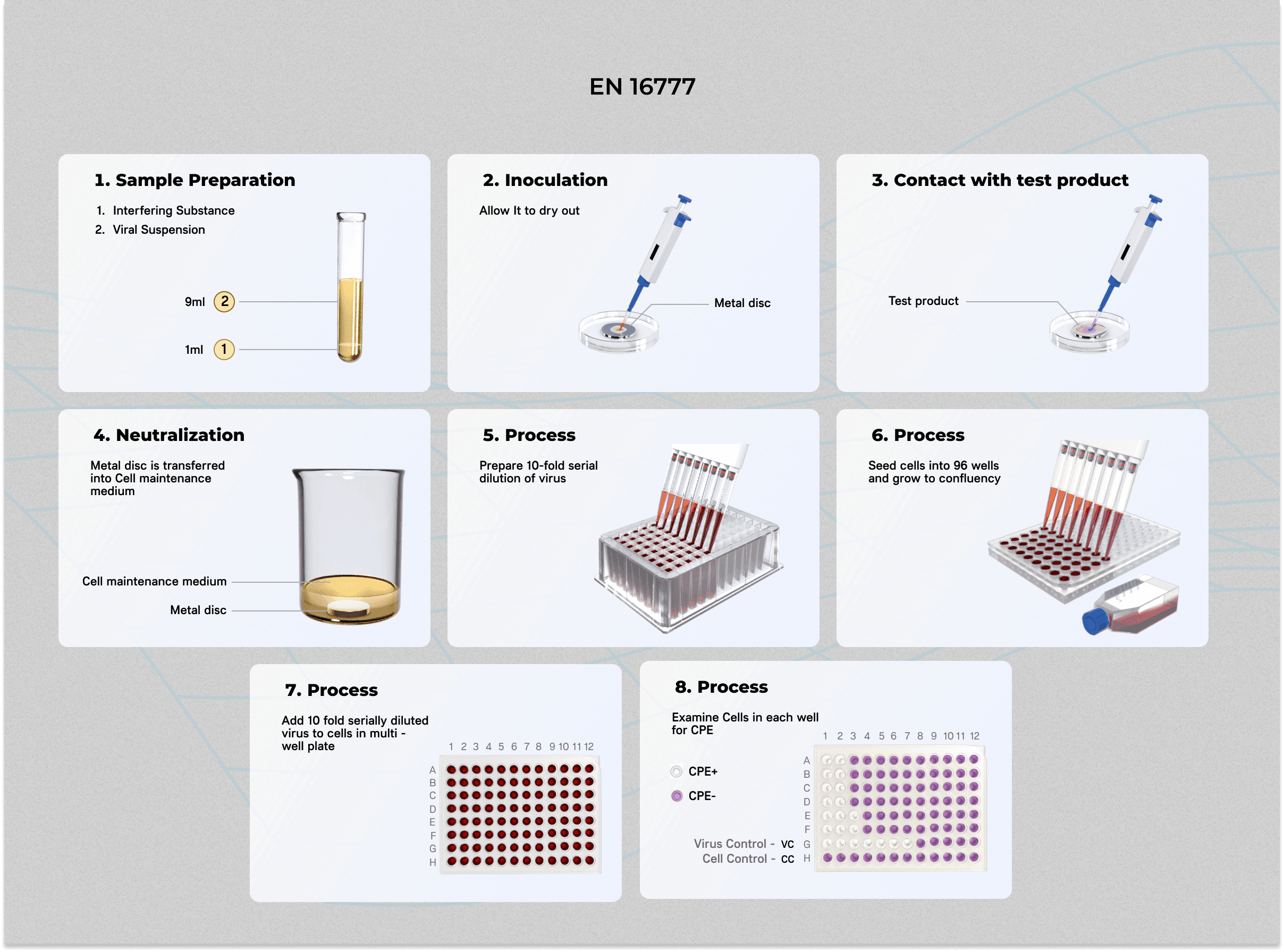 EN 16777 Test Method (Carrier test)
Virus suspension is mixed with interfering substances (for both dry and clean conditions) and spread over the stainless-steel disc (test surface). Then, surface is allowed to dry out.

In the next step, disinfectant is applied on the dried test surface and kept under specific temperature and contact period times.

At the end of the contact period, treated test surfaces are transferred into the cell maintenance medium to neutralize the reaction.

Infectious titre of virus recovered from test surface is determined and results are compared with infectious titre of virus from control sample (discs treated with hard water).

According to EN 16777 standard, a sample product to exhibit virucidal activity or limited spectrum virucidal activity must possess 4 log reduction in virus titre.
Importance of EN 16777
In hospital environments, chemical disinfectants play a pivotal role to reduce the risk of infections by eliminating or reducing pathogenic microbes. 
Based on epidemiological studies, contaminated hospital surfaces are one of the major risk factors leading to cross-contamination and nosocomial infections.
The European Standard (EN 16777) is established to check whether virucidal agents used in chemical disinfectants are capable of destroying or inactivating viral pathogens. In addition, this test helps manufacturers to develop high-quality virucidal products that ensure proper hygiene and infection prevention.
At MIS, we perform both suspension (EN 14476) and carrier (EN 16777) test methods to determine the virucidal activity of chemical disinfectants. 
Our experts understand testing requirements and conduct testing and analysis that is most appropriate for our client's products. In addition, we are specialized in evaluating the antibacterial efficacy of disinfectant formulations used in medical, food, and other areas.
Looking for EN 16777 testing of your products, please contact our experts here for more details.
Contact us for more information